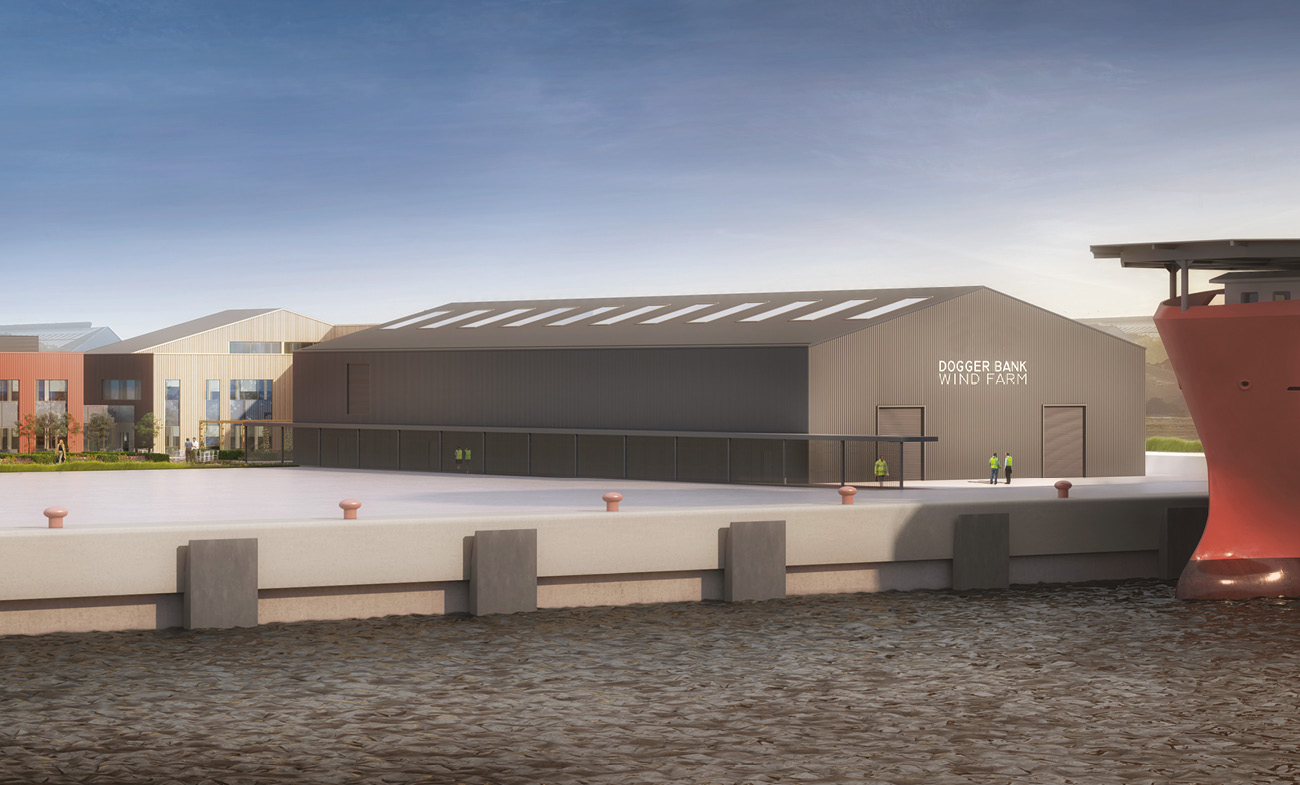 Homegrown: Dogger Bank
Securing the North East's green future
Set to be the world's largest offshore wind farm, Dogger Bank is located off the North East coast and will bring huge opportunities for regeneration and skills to the area, adding to the already vibrant clean energy sector in our region.
The project is being developed in three stages – Dogger Bank A, B and C located between 130km and 190km from the North East coast of England at their nearest points. Delivered by joint venture partners SSE Renewables, Equinor and Eni, SSE Renewables is leading on construction and delivery, while Equinor will operate the wind farm on completion for the projects 35-year lifetime.
At each phase of the project, Dogger Bank will install generation capacity of 1.2GW of clean energy that represents a multi-billion pound investment. Combined, the project will have an installed capacity of 3.6GW and will be capable of powering up to 6 million homes.
But what does this mean for the North East?
We spoke to Tom Nightingale, North East Stakeholder manager for Equinor, about what the project means for the region, how the North East is ideally placed to become a global centre of the clean economy and how the entire region can be part of the success.
What does a development like this bring to the region?
"The project will bring huge opportunities for skills and community development. Offshore Wind is a great story in the UK because it aligns with the levelling up agenda. Typically, developments are near coastal towns and historically industrial areas that have been impacted by declining sectors. Dogger Bank is providing this on a much larger scale – as the world's largest offshore wind farm it is a great opportunity for the entire supply chain, including job creation and investment.

"The typical lifespan of a project like this is around 25 years, but with Dogger Bank it's a 35-year project that will span three phases, so the impact for those wanting to build a career in the sector is huge. Our base here will create hundreds of jobs and we've already started to drive that engagement with local education, businesses and communities."
How are you engaging with local communities and education?
"We have already announced a £1m community fund during the construction phase, to support the areas impacted by the wind farm. This includes STEM education and accreditation, University Scholarships and funding for community projects, and that is just the first phase. The money will be distributed across South Tyneside, East Riding of Yorkshire and Redcar and Cleveland.
"A huge focus for us is across STEM initiatives – we really want to support skills and the future workforce. We have engaged with local authorities to really understand the local needs in each area and where we can help to support that agenda and create real value. In South Tyneside for example, the focus will be on the transition from primary to secondary schools and encouraging more young women into STEM careers.
"To solidify this commitment, Dogger Bank is offering a total of 62 scholarships to university students from these areas who are studying anywhere in the UK, providing £5,000 towards their student loan. To be eligible for the scheme, students must study a course that is recognised as 50% STEM by the scholarship fund. So far 25 students have been accepted onto the scholarship programme, and we can't wait to fill the others.
Dogger Bank is offering a total of 62 scholarships to university students
"Alongside investing in education, Dogger Bank Wind Farm is also offering £500 grants as part of the community fund to help support a wide range of causes where groups are fundraising or seeking support – one of the most rewarding parts of giving back to the community.
"But it isn't going to stop there. This is only the first part of the investment that is planned during the 35 years, with more to come during the operation and maintenance phase of the development.
How many jobs will Dogger Bank create in our region?
"The project will create a whole host of job opportunities for people in the North East. From entry-level to skilled workers, over 370 jobs will be created which will be associated with the long-term operations and maintenance of the wind farm. The focus is to give people careers they can be proud of and increase the number of people in our region taking on roles in the clean energy sector. In total the project has already created or supported over 3,000 jobs across the UK.
There is a huge existing energy supply chain that already supplies to energy projects all over the world.
"There is a huge existing energy supply chain in our region that already supplies to transitioning energy projects all over the world. We want to help enhance this global view of the North East and facilitate the manufacture and supply chain discussions globally. We've already got some events on the horizon that will help to support this and introduce businesses to each other. The wind farm is also funding these events and working with local organisations to spread the word and facilitate introductions to ensure that it's as inclusive as possible for businesses in the region.
"The project will bring together a very diverse workforce. Those who are currently in oil and gas, energy specialists, ex-military and entry-level, – and it's not just the construction phase, Dogger Bank Wind farm needs a full infrastructure at the base in South Tyneside too and recruitment has already started."
What about technology and innovation?
"We are already engaging and collaborating with local universities, colleges, schools, research centres and businesses to talk about the innovative technology and solutions that could help Dogger Bank across the project. We also have the offshore renewable energy catapult testing centre in our region, with huge investments recently announced in robotics and digitalisation – which are obviously key themes for us as the operator. We need to be thinking about and introducing new technologies at every stage of the project's life span, so if someone doesn't have the idea today, that doesn't mean that in five years' time we won't need that new technology or innovative solution.
huge investments recently announced in robotics and digitalisation
"If businesses have the opportunity to get involved now that's an amazing thing, but we also want businesses to consider how they can be involved and find success from renewable energy in the future too.
"The wind farm also provides funding to the UK Offshore Wind Growth Partnership which goes to support growth and innovation in the sector. As part of this fund, there is a specific programme in the North East, Technology Innovation for Green Growth in Offshore Renewables (TIGGOR). The programme offers grants to support innovation and drives investment in the region, as all businesses that apply must either be based here in the North East or proposing to put a base here. It's really important for driving innovation and developing the local supply chain. Equinor is also a delivery partner on this initiative."
How can the North East lead the way for clean energy?
"The North East is already a UK leader in terms of supply chain, infrastructure and academia in this field. There are some amazing engineering and marine courses in the area as well as leading energy academies and marine centres which are helping to drive interest in the sector and create the skills that are needed to succeed. It's about embracing the careers of the future and everyone working together to drive the opportunity for our young people, supply chains and skilled workforce."
Learn more about Dogger Bank Wind Farm's community fund here, including eligibility for scholarships and the operator's fund:
Dogger Bank in the community