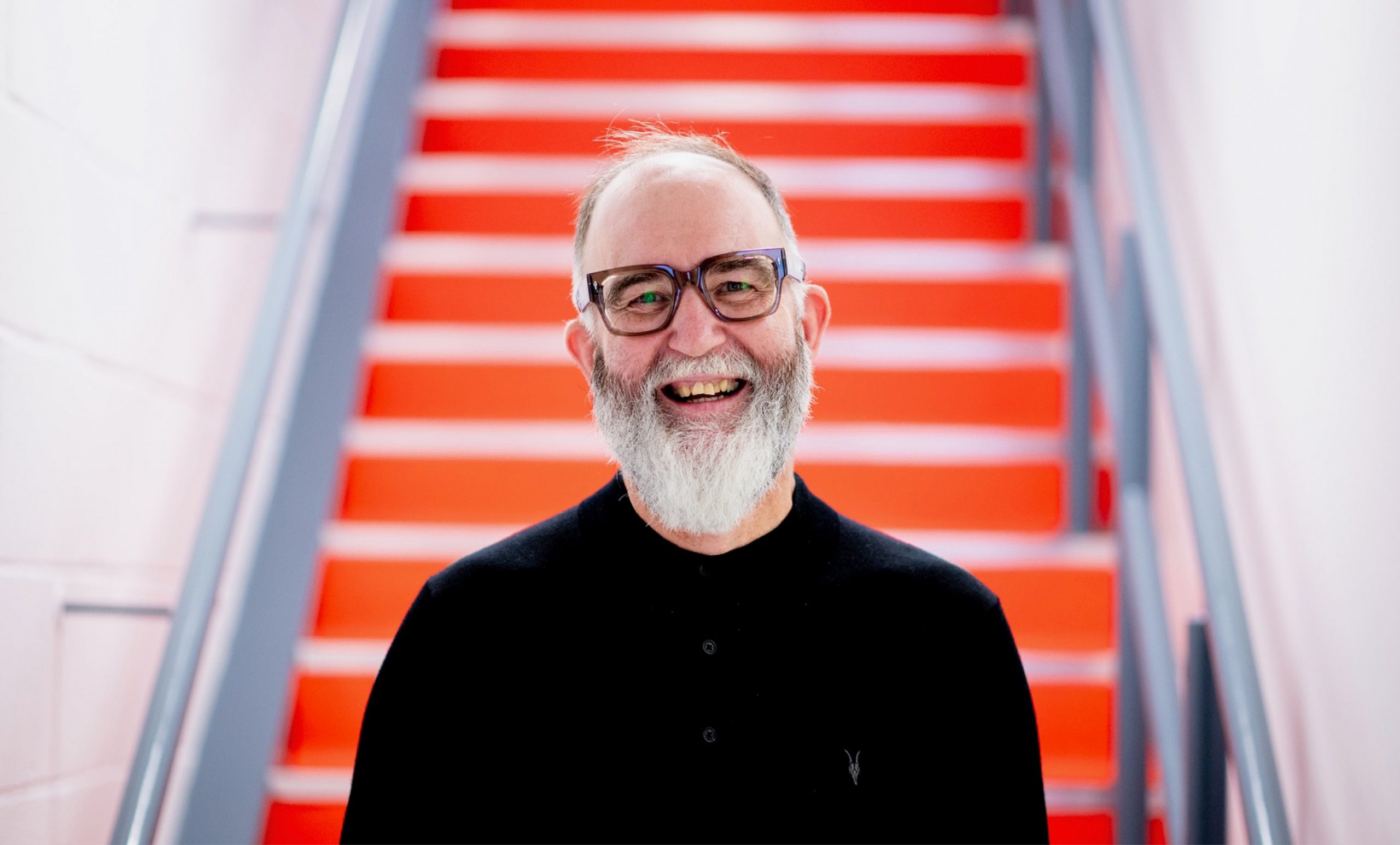 Homegrown: Technology and People – where the magic happens
Interview with Mike O'Brien, Founder and Co-chair of Opencast
As a kid of the seventies, Mike O'Brien grew up around Whitley Bay's skate ramps, punk music and early video games that cost 10p to play in the arcades of Spanish City.
During his O-levels, a £99 computer from his dad turned his life in a whole new direction.Having taught himself photography so he could make skate fanzines, his dad recognised his son had some artistic talent – but as an engineer by trade he bought him a build-your-own computer so Mike could channel his creativity. He began to write his own programs and video games with a group of friends to save themselves a load of 10ps.
Igniting a passion for coding as 'part art form, part science' led the unassuming entrepreneur to be one of the first students of Computing at the then named Newcastle Poly. The poly didn't even run a degree course at this point.
By way of introduction, today Mike O'Brien is a founder of one of the UK's fastest growing technology consultancies, Opencast. With over 500 staff and counting, the company has disrupted how problems are solved in some of the biggest, most complex tech environments, from the NHS to the DWP and global banks like Barclays and JP Morgan.
"My team used to get sick of me saying it's all about the people," says Mike, as Opencast's success today ironically is less about technology advancement, and more about old-fashioned relationships.
As one of the region's early tech whizz-kids, Mike found himself running a computer department (of one person) in the NHS at 19, swiftly followed by a year at an engineering firm in Darlington where he travelled daily from Whitley Bay in his 1973 VW Beetle to be trusted to develop some of their biggest projects.
"I saw then how excited people in a business get when a system works, when the things you do are making a difference right at the core of their business."
Not long after he was part of a new band of North East programmers recruited to join the Prescription Pricing Authority (now the NHS BSA), one of the first NHS departments to be revolutionised by technology.
In the late 1990s a chance spot of a job ad in the Evening Chronicle newspaper on his boss' desk led Mike to his first foray into a new world of tech entrepreneurialism.
I'd never met an entrepreneur before; nobody I knew growing up worked for themselves – except one guy in Whitley Bay who got a YOT grant to open his own chip van!
I took a year out travelling around New Zealand, US and Asia where I'd met people who'd been self-made entrepreneurs for the first time."
The company advertising for jobs was Strategic System Solutions (SSS), as an early tech start up just as the internet had come along. Exploring the emerging new languages in coding, it was harnessing what software and smart people from the North of England could do for investment banks in Wall Street, New York and beyond.
Mike left the health service to join SSS when it had a team of 30 in 1997 and by 2010 it had grown to 800 people, with offices across the UK, US, China, Singapore and Manila.
What was even more innovative than its technology capability was its culture, which was way ahead of its time in deconstructing 9-5 working days, wearing jeans, gym memberships, profit shares, equity and a flat structure.
"We worked a lot with clients around the world so we focused on building those relationships, which meant they needed late evening calls, or all weekend work. We allowed people to come in at 11am the Monday after a full weekend go live. Nobody was offering real flexible working at the time without old-fashioned key cards and closely managed flexi systems and it was one of the many reasons we attracted some very clever software people to come and join us," says Mike.
Looking around Opencast's head office, a colourful, open plan environment with laid back people heading into pods for client calls, you get the impression that early dotcom culture has stayed with Mike, much like his passion for music as he points out the Hacienda stripes on the cafeteria ceiling.
"Capgemini bought SSS in 2010 and quickly killed the unique culture with a completely different business model and culture of its own. We had been more than a supplier to our clients; we were true partners and had enjoyed a people-to-people relationship that allowed us to do some really brilliant work to that point."
Having already climbed to board level at SSS Mike had led the creation of its Internet Tech division. After pitching the idea to the founders, they let Mike set off on his own to sell new services into new markets for the fast-growing company.
"I wrote letters and rang up hundreds of companies selling the story of how the internet would change their world. It was hard yards as nobody would listen at first.
"After eventually making headway and developing very early e-commerce system we got opportunities to partner with our banking clients to build world leading global trading and settlement systems." He says, "I'd already now had an amazing apprenticeship in entrepreneurship."
By now a father, a chance encounter with a fellow dad of twins at the school gates changed everything. Charlie Hoult had returned from London to take on the family business at Hoults Yard and spotted that Mike and his 'bunch of Northern tech heads' were doing what he had only thought was happening in the capital – they were leading a global technology revolution from right here in Newcastle.
Mike took the opportunity to join forces with Charlie and they both invested some savings with the aim to take what had been done at SSS to another level – to build a tech company all about people again but with many learnings from both of their past lives.
Despite no contracts to speak of, another chance event got Opencast off the ground.
"In our first week an old colleague called me to say he and three great tech people had been made redundant, so we hired them immediately. They were open to taking a bit of a risk on me because we knew each other well from those early days in the NHS and SSS.
"It was a few months until we landed our first contract with RBS, but when that first invoice paid their wages rather than our savings it was a big moment."
Another ex-colleague jumped on Mike's train one morning, as he headed from Tyne Valley into his shared desk space at Hoults Yard in Newcastle. She was now the Head of IT at an NHS department and invited him in to meet her boss.
"They gave us a chance and within a month they reflected that we didn't work like any consultancies they had ever worked with."
"We have grown Opencast organically through great relationships; we had a very different way of doing things to the big consulting firms of the day."
"Opencast people really talk to their clients to understand their problems. We don't target our people on how many heads we have sitting in our clients' IT departments year after year, we want to get the job done together by bringing their clever people together with ours. We build fantastic long term relationships and focus on the real problems confronting our clients."
The early 2020s changed everything in terms of remote working as the world grappled with lockdowns, but being able to hire anywhere and work for anyone accelerated growth for Opencast's agile and empowered workforce.
Still privately owned with a turnover of over £50m, Opencast's team has continued to grow and today has bases in Edinburgh, Glasgow, Leeds and London alongside its Newcastle headquarters.
"We're really good at working with other people, whether that's with clients or other suppliers. We know we can't do it all, and when you need to mobilise fast you have to be able to collaborate. You can do bigger, better things when you work well with people."
'Don't Step over the Milk' is a company mantra (there are few!), based on the tale that most people leave the milk bottles on the doorstep when they walk into work.
Mike explains Opencast's culture as "No questions are left unasked when a client has a problem. If one of our people has a problem we are always here to support them" says Mike who 'will talk to anyone in the C-suite – people are just people at the end of the day.'
Today Opencast retains a flat structure 'culturally but not exactly structurally' according to Mike, who recognised fast growth needs an experienced C-suite and a team who solely look after their people experience to keep their culture alive.
Mike says, "We've been really lucky to have a fantastic team of people join us on our mission. They could've all stayed in stable careers with huge global names, but trusted us and have taken the company to new heights. I'm incredibly proud of what's been created so far and where this team will take the company next!"
As we finish our coffee and Mike heads off in his Stussy t-shirt to Whitley Bay to have tea with his mum, it is obvious he hasn't changed much since his days as a Whitley Bay teen obsessed with creating stuff and skateboarding with his mates.
Perhaps being an entrepreneurial tech success isn't actually that complicated… it essentially all starts and ends with being a good person.