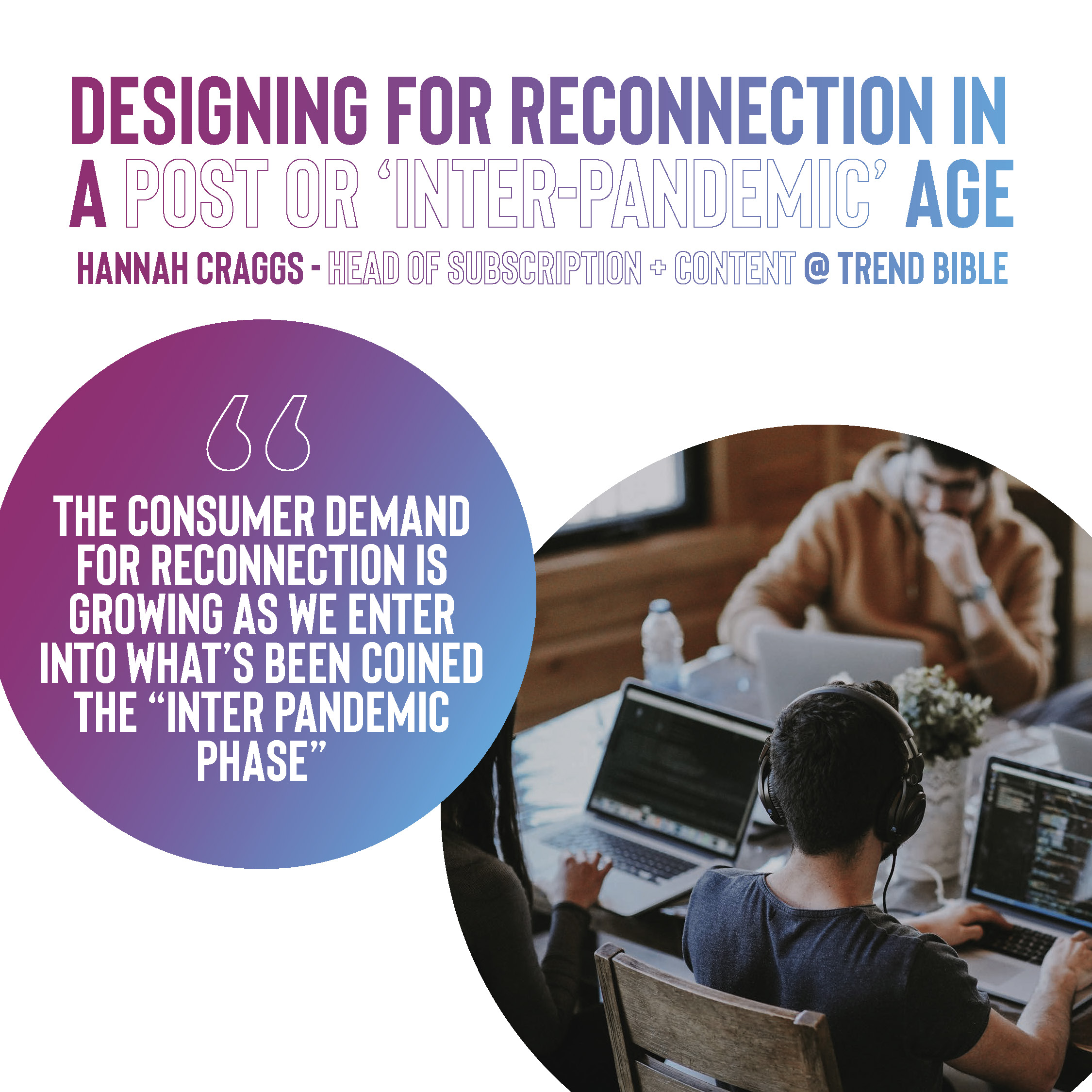 Designing for reconnection in a post or 'inter-pandemic' age
The consumer demand for reconnection is growing as we enter into what's been coined the "inter-pandemic phase". Although the impact of Covid-19 is far from over, trends are emerging to aid intimacy within spaces and environments. Materials, shape, form, and user experience all combine to establish our emotional link to objects and spaces and most of all, people.
Consumer thirst for exploration and interaction is at an all-time high. Whilst travel and socialising have been limited throughout the past two years, there is a forward movement towards a new era in which consumers re-establish connections, relationships, and a sense of intimacy with the people around them. Creating spaces which encourage personal wellbeing and promote healthy social interaction applies both to home and work.
Scale and space are changing – physically. Finding the balance between spaces that feel safe and allow for self-reflection and 'me time' yet welcome social interaction and aid playfulness, is an evolving challenge for employers.
The idea of open plan is rapidly loosing its appeal, not only does it feel intimidating for some now more accustomed to domestic design (i.e. lower ceilings, increased soft furnishings, less rigid / formal desk spaces) but also can feel harder to keep clean and safe. Instead people are seeking out all things modular that allow them to interact with their teams in a collaborative manner around bigger informal settings once or twice a week. Areas dedicated to silent / quiet working will also be key for focused periods of work.
Considerations when thinking about collaboration in the workplace are:
• Whilst considering how to help people connect through design, also consider how to create places for them to disconnect for self-reflection.
• The functional use of a space that can change, using design with modular, adaptable usage in mind.
• Facilitate friendliness but consider the concern for health and well-being. As the world transitions into an unchartered period of reintegration, sanitation and safety, as well as comfort, will be key.
Hybrid – blending IRL and URL working:
A need to facilitate fairness between those who are present IRL and those who will continue their employment via URL. Many have moved away or companies are now facilitating permanent distance working on new contracts. Therefore we will see an increase in things like owl labs video conferencing, connective calling and the rise of the "meta meeting".
Look to Google's "campfire" example – where 60% of Google's workforce are returning to the office environment part-time, 20% from home and 20% remotely. Connecting people on an even footing in real life and virtually, these rounded meeting circles with life-size digital screens provide a physical presence to virtual members.
Office Design focus – key details to create opportunities for reconnection and fostering friendship through design:
• Excite and engage the user through playful design and interaction.
• Celebrate nostalgic craft with a modern twist, combining comfort with excitement.
• Consider incorporating more circular forms to create a more organic sense of connection.
• The use of semi-transparent materials can create an open and calming aesthetic but still zoned.