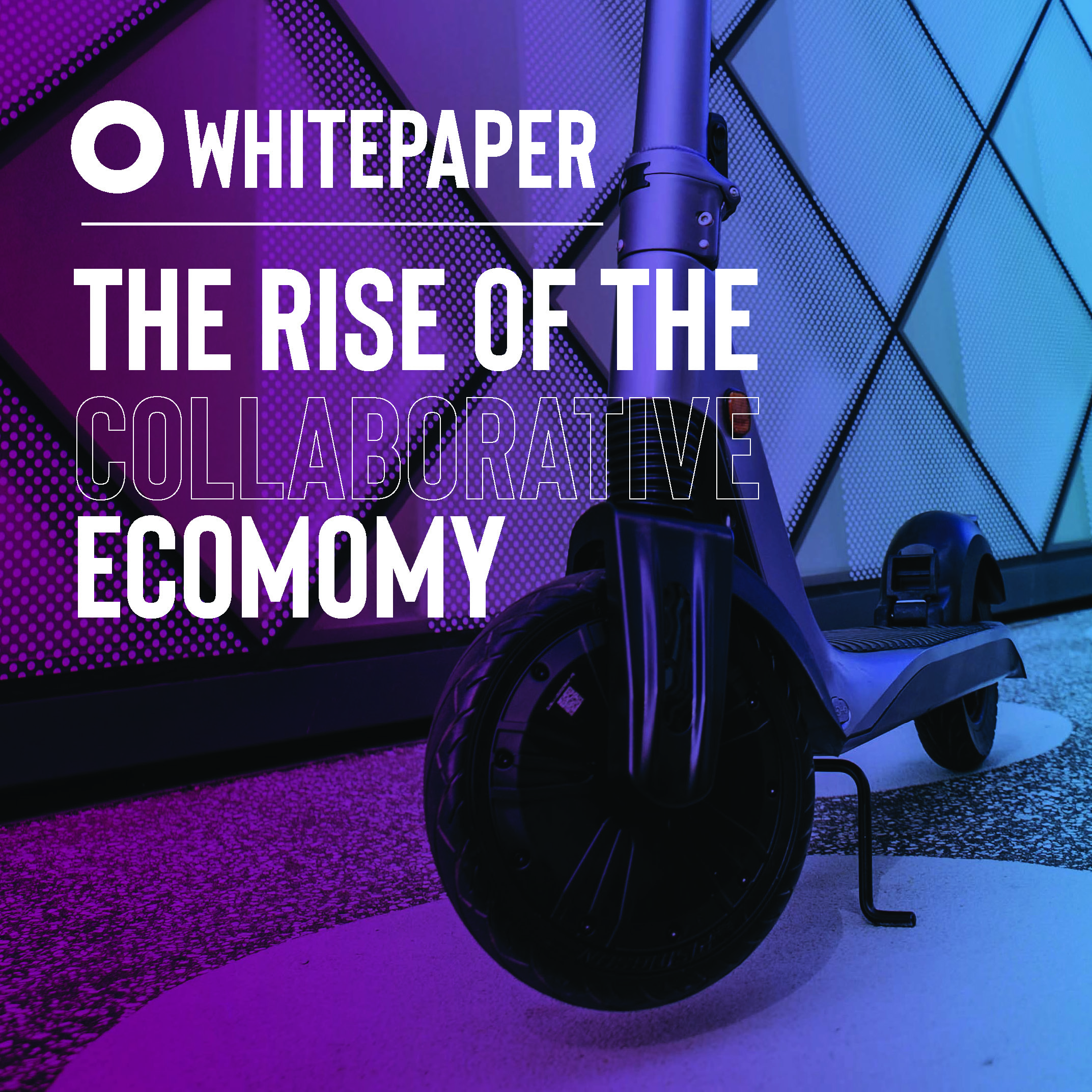 The rise of the collaboration economy
Caroline Campbell, Sustainability Lead
Businesses and governments around the world have set themselves net zero targets and drafted corresponding strategies to reduce their carbon emissions in an effort to keep global warming within 1.5 degrees, as agreed in the Paris Climate Agreement.
In a society historically built around the fossil-fuel powered industrial revolution, this transformation towards a decarbonised world is no mean feat. Much like other seemingly overwhelming challenges, many are finding that the only way to make this task possible is through collaboration.
Fashion aside, collaboration has been in vogue for decades but coming out of the enforced separation of the pandemic, getting together is very much the way forward.
Brand partnerships, influencer co-creation or sharing resources, logistics, workforces and office spaces – collaboration is emerging as the new way of doing business.
In our The Collaboration Economy whitepaper we explore what the future of the workplace looks like – is it a place or a community? What does the office even mean anymore and how do we make gathering together something worth doing? If 67% of 18-34 year olds are saying they find it hard to make friends WFH, are we losing something special only meeting in IRL can offer?
Coming out of Covid many businesses have pivoted and collaboration is driving a new economy designed to preserve the world's resources. We look at how this can be seen in our cities in car sharing clubs and shared waste collections, in the rise of hiring over buying online, and in the sharing of energy in district heat networks.
The thing about carbon emissions is they don't stay within people's homes, cars, business walls, or borders that divide countries – carbon emissions produced are shared amongst us all.
That's why it makes sense that businesses and governments who are most ambitious about achieving net zero are looking to collaborate to get results. There are now many businesses offering products and services which facilitate the collaboration necessary to reach net zero – here we shine a spotlight on some of those leading the net zero collaboration.
Low carbon travel:
Travel is responsible for more than a third of all UK carbon emissions; something the UK government is looking at changing through its Net Zero Strategy: Build Back Greener white paper. This policy document sets out targets and measures to support the decarbonisation of the transport system including ending the sale of new petrol and diesel cars and vans from 2030, supporting the roll out of electric vehicles, and increasing the use of public transport and active travel. Introducing good quality infrastructure for electric vehicles (charging points) and active travel (cycle lanes) will require huge amounts of collaboration from industry, councils, and residents alike, but there's more to it than the collaboration around decision making and infrastructure implementation.
There are already several organisations who offer low carbon transport services through collaboration. Community car sharing clubs like Co Wheels give users the opportunity to borrow a car or van and to pay by the hour – and unlike traditional car hire, club cars are available 24/7 delivered to a nearby street. Meanwhile e-scooter rental systems like Tier Mobility offer an active travel option.
It's not just transport emissions from our day-to-day journeys that are up for review either, how goods are delivered to our door is also a source of carbon emissions, particularly with the rise of online shopping. This is why the popularity of e-cargo bike delivery companies who deliver packages from a variety of businesses are on the rise. Zedify, an e-cargo bike delivery service in Bristol had so much business during lockdown that it set up 10 mini-hubs on brownfield sites outside cities to make thousands of zero-emission deliveries into each city every day. E-cargo bikes have a host of advantages over other vehicles: they can move more quickly through the city streets, meaning they are able to deliver packages 60% faster than their van equivalents. They're cleaner – saving about 90% in carbon emissions – quieter, and cut congestion, as a cargo bike uses a fraction of the road space of a typical delivery van.
Getting rid of waste also requires transport, so businesses looking to meet net zero targets can also consider teaming up to procure recycling services to reduce waste from their business processes. Not only will this reduce carbon emissions from recycling truck journeys, but it will also save businesses money. Going into a procurement process as a collective – increasing the value of a contract – will also give them more bargaining power and they might be able to stipulate carbon emission related targets in their contract, or specify electric vehicles. Bath Business Improvement District brought businesses together in this way to set up a low carbon city-wide recycling service for businesses.
To move away from a transport system that relies on fossil fuels the manufacturing sector along with many others, will need to tap into the skills necessary for electrificaion. The whole supply chain will need the facilities and equipment to test what's possible before all things fossil fuel powered become electric. One network providing just this – a network of the skills, capabilities and facilities needed to drive the electric revolution – can be found here in the North East of England at Newcastle University. DER-IC (Driving the Electric Revolution Industrial Centres) backed by UKRI and the UK Government, has over 30 partners and hubs in the North East, Scotland, South West and Midlands -and is always looking for business collaborations.
Sharing energy:
After transport, the biggest source of UK carbon emissions is energy. District heat networks – a heating system that relies on collaboration between businesses, local authorities and homeowners – are popping up around the country proving they have a role to play in decarbonisation.
As Andrew Hirst, decarbonisation specialist at law firm Womble Bond Dickinson pointed out recently in an article in Yorkshire's Business Insider, manufacturers who produce huge amounts of excess heat in processes can capture this energy, which can then be redirected to a district heat network – if the infrastructure is established. This set-up requires businesses and local authorities to work together, but this is already happening in Yorkshire. Leeds City Council is currently working with industry to develop the biggest district heat network in the UK.
Meanwhile, in the North East, Newcastle now boasts one of the UK's 'smart' energy system developments at the 24-acre Newcastle Helix site, where there is a District Energy Centre providing energy to homes and businesses via a network of underground pipes. Non-residential properties on the site also benefit from a cooling system and a bespoke electricity supply. The system is integrated with the smart electricity grid, smart meters, and on-site electrical energy storage to allow the generation, distribution and consumption of heat and power to be closely monitored and managed. It has been calculated that the scheme will provide a carbon emission saving of 30,650 tonnes over 40 years.
This region is also looking at innovative ways of repurposing and reusing the infrastructure left by its coal mining past, with Durham County Council recently receiving funding to develop its own low carbon heat network, which will use geothermal heat from former coal mines. The energy will then be distributed to Seaham Garden Village, where it will heat more than 1,500 homes, a school, and a health centre. If successful, it is hoped that the project can be replicated across the country.
Buying and selling 'stuff' in a circular economy:
Back in 2013 The Economist ran an article stating 'On the internet, everything is for hire' and according to CBI data in 2021, the UK's Sharing Economy is expected to be worth £140 billion by 2025.
Ellen McArthur of the Ellen McArthur Foundation says:
"The circular economy is needed to get to net-zero emissions. While 55 per cent of emissions can be tackled by the transition to renewable energy, the remaining 45 per cent of greenhouse gas emissions come from the way we make and use products and food, and manage land. The circular economy is a way to solve this by decoupling economic growth from the consumption of finite resources."
Part of decarbonising society is keeping the things we own (and the embodied carbon emissions in them) in use for as long as possible to avoid having to buy 'new stuff', which requires the consumption of carbon emissions to extract raw materials, manufacture of materials into products, and then operating the full supply chain right up to the point of the end consumer.
The idea of 'getting stuff' through the 'shared economy' – a framework where assets and services are provided, acquired, or shared between private individuals – supported by apps and digital platforms – is now very popular. These collaborative platforms support a 'circular economy' – an economic system where resources go round in circles – and one that's compatible with a net zero world. Have a look and you'll see that you can probably find anything you need (with some patience) through one of these sites, which connect users who either want to pass on, or are looking to acquire, goods and services.
For buying second hand things have a look at: Ebay, Facebook marketplace, Gumtree, Freecycle, Vinted, Depop and Vestiaire Collective. For acquiring discounted food that would otherwise go to waste (e.g. when restaurants, cafes and food shops have a surplus at the end of the day) try TooGoodToGo.
For renting goods and services for a limited period of time, some regions have a library of things where you can rent gardening tools and toys, there are lots of nappy and sling libraries for new parents, check out Hirestreet if you're looking to rent affordable fashion and many white goods manufacturers now lease appliances. Not only do these platforms that are designed to avoid waste contribute to our achievement of net zero, they have a social value too, in that they link you up with your local community.
(Sources – COP26 Goals – UN Climate Change Conference (COP26) at the SEC – Glasgow 2021 (ukcop26.org) – The rise of the sharing economy | The Economist)